Welcome
The Cleveland Grotto is a Northeast Ohio chapter of the National Speleological Society, the largest caving organization in the United States. We are the oldest continuously active grotto (caving club) in the NSS. While Ohio (especially the northeast) has relatively few caves, we often take trips to explore caves in Indiana, Kentucky, Pennsylvania, West Virginia, Virginia and elsewhere. Come join us at a meeting and find out more!
Meeting Place
We meet the third Tuesday of every month at 7:15pm, at the Busch Funeral Home, 7501 Ridge Rd, Parma — this is just south of Ridge and Pleasant Valley. We meet in the North Community Room, which is on the lower level, facing the road. Afterwards we usually end up at The Inn Between Bar & Grill, 1.2 miles further south on Ridge, for drinks and food.
Join Us
If you'd like to join the Cleveland Grotto, just fill out this membership form and send in your dues via PayPal (address on the form) or check (address on the Contact Us page). Joining gets you access to our email list for details on upcoming activities, a periodic newsletter, and of course more caving! Dues are $25 a year with the newsletter mailed to your street address, or $15 with the newsletter available online. Not sure if you'd like to join yet? Come see us at a meeting anyway and find out!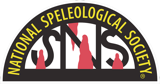 The Cleveland Grotto is a chapter of the NSS